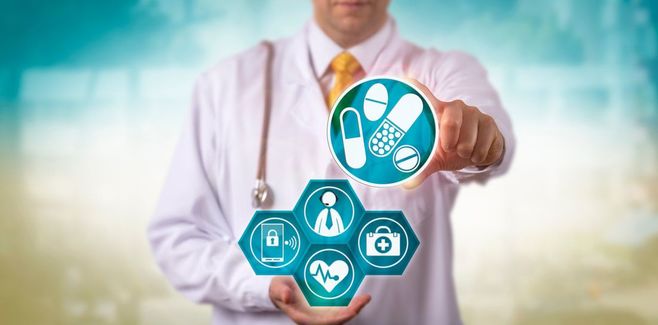 ​What Is Telemedicine?
According to the American Telemedicine Association, telemedicine is "the remote delivery of healthcare services and clinical information using telecommunications technology." In our digital age, telemedicine represents the natural evolution of healthcare. By connecting to a medical doctor in real time using a secure telemedicine platform with audio and video capabilities, you can receive a personal remote consultation in the comfort of your own home, office, or any other location that has an internet connection. Telemedicine allows secure and private access to a doctor, saving you time, money and potential exposure to communicable illnesses. Telemedicine consultations can be conducted via desktop computers, tablets and smartphone devices. You may see the terms "telemedicine" and "telehealth" used interchangeably.

How Does It Work?
Carmel Care PLLC
is a DFW-based concierge medical practice that delivers personal attention and exceptional value to our patients. In line with our commitment to convenient, competent and compassionate medical care, we offer private telemedicine consultations provided directly by
Dr. Gary Berlin
. Our telemedicine services are offered to all Texas residents, as well as patients physically located in the State of Texas at the time of consultation.
Carmel Care has partnered with
eVisit
, a leading provider of an award-winning telemedicine platform, to bring you a secure two-way audiovisual communication experience. You will need to
create an account with eVisit
,
answer a few brief clinical questions, book an online appointment
with Dr. Berlin, and get ready to enjoy an unparalleled level of convenience and clinical excellence. eVisit is available for use on desktop computers, tablets and smartphones (Android and iOS). In addition, Dr. Berlin can send an electronic prescription to the pharmacy of your choice. Your personal visit record will be available for you to download shortly after the encounter is concluded.

Is Telemedicine Right For Me?
Please review the list of conditions that may be appropriate for telemedicine treatment. Most importantly, please be aware that any severe symptoms that would cause a prudent layperson to seek an emergency treatment are not appropriate for telemedicine. For example, symptoms like chest pain, trouble breathing, trouble swallowing or speaking, severe headache, loss of sensation or strength in any body part, loss of consciousness, acute memory loss, uncontrolled bleeding, or possible broken bones should not be treated via telemedicine. If, during a telemedicine consultation, Dr. Berlin would determine that your symptoms need further in-person medical evaluation, he will advise you to this effect, and may refer you to an urgent care or an emergency room if warranted.
The following are some of the conditions and issues we can address via telemedicine:
Colds
Flu
Bronchitis
Sore throat
Ear infections
Sinus infections
Allergies
​Asthma (maintenance and mild exacerbations)
Conjunctivitis ("pink eye")
Skin infections
Insect bites
Contact dermatitis and skin rashes
Eczema
Yeast infections
Urinary tract infections
Nausea, vomiting and diarrhea
Sprains and strains
Neck and back pain (excluding chronic pain management)
Blood pressure control
Medication refills, medication list review and evaluation of potential side effects
​Sexual health and erectile dysfunction

Smoking cessation
Weight loss and dietary advice
Please note that there are important limitations on medication prescribing via telemedicine that are imposed by the current State and Federal laws. Carmel Care will comply with the applicable laws as follows: in treating patients via telemedicine, Dr. Berlin
cannot prescribe any controlled substances
,
cannot manage chronic pain conditions
and
cannot prescribe an abortifacient or other drug or device to terminate a pregnancy
.

What Does It Cost?
Telemedicine is not only uniquely convenient but also surprisingly affordable. To celebrate the addition of telemedicine to Carmel Care's suite of concierge medicine services, Dr. Berlin is offering a low introductory price of only $50 for a full telemedicine consultation. This price will be valid for a limited time only.

Since Carmel Care is a concierge practice, we do not accept any insurance, benefit assignment, or third-party payment plans. We believe in working only for the patients, not for insurers or middlemen. In addition, our direct-pay care model implies greater confidentiality by maximally limiting third-party access to patients' private medical information.

eVisit telemedicine platform allows for easy and secure payment via all major credit and debit cards.

How Do I Make A Telemedicine Appointment?
Please
create an account
with eVisit telemedicine platform,
log in
, and request an appointment with Dr. Berlin. If Dr. Berlin is showing as "unavailable" in eVisit, feel free to call
1-888-227-6352
to speak with Dr. Berlin about scheduling an appointment. All reasonable efforts will be made to accommodate your personal appointment requests.
Please note that telemedicine consultations cannot be conducted via telephone. Only eVisit platform is appropriate and secure for real-time telemedicine consultations.

What Are The Terms And Conditions Of Service?
When you
create an account
on eVisit telemedicine platform, you will need to read and acknowledge Carmel Care's Telemedicine Terms Of Service, Notice Of Privacy Practices, and Notice Concerning Complaints. If you would like a copy of these documents for your files, you can access them
here
.